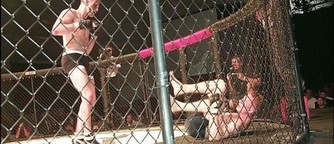 _
Personal Training Tactics has been around since 1997 and has stood the test of time. We are continually evolving with the high demands and ever changing world of Mixed Martial Arts.

---
---
Mixed Martial Arts
First let me explain Mixed Martial Arts (MMA). To simplify so you are not reading a long drawn out story of Mixed Martial Arts. MMA has been around for a long time, in fact Bruce Lee was working on blending different Martial Arts in the 60's and 70's. Mixed Martial Arts gets the name because it takes different styles of combat, fighting, self defense and whatever else you want to call it then puts them together to make a complete fighting system. MMA combines Western Boxing, Muay Thai, Grappling, Jiu Jitsu, Wrestling, Judo and that is just a small list of what makes up Mixed Martial Arts. People sometimes get the wrong impression of MMA, but to tell you the truth MMA is very safe. Yes, people can get hurt and sometimes do but in what sport or activity is the risk of not getting hurt there. You need to train smart and use proper equipment to protect yourself.

At Personal Training Tactics we take pride in having a safe environment, allowing everyone to train at their own pace. Not everyone wants to compete, and we do not require that to be able to train with us. We teach Women and Men of all ages and skill levels. Do NOT use the excuse that you want to get in shape before training in MMA. You get in shape by showing up and training. If you show up regularly and put in your time you will get in shape. Come experience what Mixed Martial Arts is really about and see for yourself that it is a great way to get in shape, learn how to defend yourself and not get hurt. We all have jobs to go to and cannot afford time off due to injury. We are not saying you will not be sore from the workout but we do take caution and use proper equipment to protect ourselves and our partners while training.

Coach D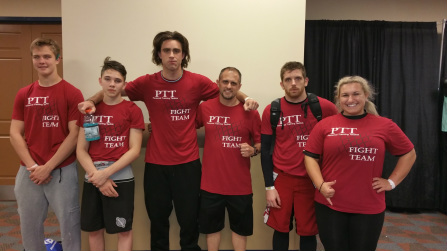 ​_ What Makes PTT Different?

- Personal Training Tactics has been around since 1997

- Personal Training Tactics is taught by Don Kaecher, who has been training in Martial Arts since 1988 and training in the Mixed Martial Arts since 1995. He has been doing Martial Arts for over 28 years. Don has won the Intercontinental Flyweight Title in World Extreme Fighting and was ranked 11th nationally, Won Golden Gloves in 2005, won Muay Thai Championships in 1997, and won Kumite Classic multiple years in a row. He also competed in the Gracie Grappling Championships, Grapplers Quest along with many other competitions.

- PTT has a great reputation and is recognized at MMA events. We have the highest and most impressive MMA winning record in and around the area, including Ohio, and West Virginia.

- Anyone can train at Personal Training Tactics. It does not matter if you are new to the Mixed Martial Arts, just want to learn it for self defense, lose weight, or are an experienced Martial Artist. Everyone is welcome, all we ask is you bring respect and a few extra shirts because you will need them.

- Personal Training Tactics has classes for everyone from Women Men, and Fighters at any level.



---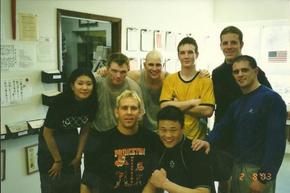 _Why Train At PTT?

- PTT offers Mixed Martial Arts, Fight Training, Conditioning, Women's Cardio Self Defense, MMA Stand up and MMA Ground.

- Personal Training Tactics offers 2hr classes for the fighters.

- Our 2hr classes have been proven to help the students learn and understand the information better, by allowing time to drill the techniques and use them in a
live situation.

- The split between classes gives the student time to condition and lets the information sink in.

- Our prices are very reasonable and we also offer family packages.

- The facility is very clean and well maintained.

- PTT has a friendly atmosphere and the highest level of training you will find.


---
_The Goals of PTT!
- To maintain a safe and friendly environment.
- Have respect for each other, ourselves, and the training facility.
- To help people reach their goals!
- To continue to evolve with the changing times in Mixed Martial Arts.
- To work as a team and help each other grow together.


---